Big Brother 18 is scheduled to premiere on Wednesday June 22 and we're excited to announce MORE exclusive content if you subscribe to the live feeds. By signing up for the live feeds today, you will get to test them out for FREE for 1 week. As a member of CBS All Access, you'll have access to the VIP chats with Big Brother Alumni, the Big Brother Marathon (Now playing every episode from Big Brother 1 – 17), Big Brother Alumni Hotseat videos, and be able to watch any episode of your favourite CBS show.
Recent Spoilers
-Post has been updated--Post has been updated-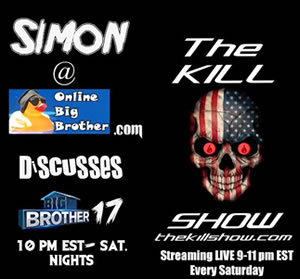 Simon from Onlinebigbrother on THE KILL show Saturdays @ 10pm
http://thekillshow.com
9-11pm
Big Brother Links
Bitchy Big Brother Blog
Big Brother attwx
Hamster Watch
Quirkydudes Archives
Big Brother Archive
Big Brother Gossip
OnlineBigBrother Forum
I Love Reality TV
Big Brother Junkies
IHateBigBrother!
Big Brother 2009
Big Brother Network
Big Brother Insider
The Big Brother Forum
yakkityyaks